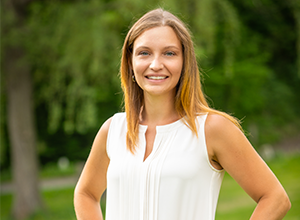 Finance & Administrative Assisstant
315-733-4691 ext 224
Meet Liz
Liz, our in-house outdoors lover, began her career with United Way MV in November 2019. Bringing 15 years of experience in the finance field to the team, she assists the finance team with everything from maintaining the books to volunteering for our Free Tax Prep initiative.
United Way is a leading problem solver, innovator, and connector in the Mohawk Valley. Liz considers herself a problem solver and says, "I enjoy a challenge because the feeling when you succeed is much more rewarding. I enjoyed putting this ability to work when we ran our Free Tax Prep initiative by finding additional deductions and/or credits for individuals and families in our community. The reward is watching them walk away with a smile." 
When asked why she likes to work for United Way, Liz says, "When thinking about United Way, I think about an organization that strengthens its community. I hadn't realized that behind the scenes is an amazing group of selfless, humble, like-minded individuals working daily to make that happen. The positive energy reverberating through this organization makes it second to none to work for!"
Her favorite thing about her career is connecting her love of numbers with making an impact in the community. "Finance and numbers, in general, have always been a passion of mine. Finding a career that not only allows me to do this but also gives me that ability to have an active role in the community I have the privilege to call home is what truly makes it special."
Fun Facts About Liz
When the pandemic hit, and their travel plans were canceled, Liz decided to make a bucket list trip happen. Liz, her husband, and her kids spent nine days exploring Alaska.
It's safe to say that Liz and her family love spending time outdoors! Their hobbies include camping, hiking, kayaking, and fishing.
Liz's favorite place to visit in the area is the Utica Zoo.
In her opinion, Roma's has the best tomato pie, and Holland Farms has the best half-moons.
Her favorite pizza is a plain cheese pizza from Franco's in Ilion.
Liz's favorite memory of the area is tubing at the parkway. She grew up in Westmoreland and started her family in Frankfort, so the Mohawk Valley has always been her home!
The Boilermaker is her favorite community event.
She is both a dog AND cat lover.
Liz loves to make bread. She says, "There's something so satisfying about punching down the dough! And let's face it, what's better than a warm, fresh-out-of-the-oven piece of bread slathered with butter… yum!"
Would She Rather?
She would rather spend the rest of her life in an RV than on a sailboat.
She would rather watch the movie than read the book.
She would rather time travel than freeze time.
She would rather teleport anywhere than be able to read minds.
She would rather her only mode of transportation is a giraffe than a donkey.