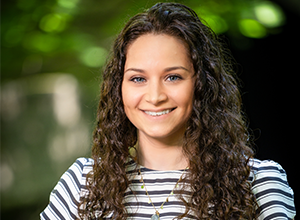 Director of Marketing and Communications
315-733-4691 ext 232
Meet Kristyn!
As a graduate of SUNY Oswego with a B.S. in Marketing, Kristyn began her career with United Way MV in December 2012 as Director of Development and Marketing, managing the Resource Development and Marketing teams. Today, she is the Director of Marketing and Communications, overseeing all marketing and communication efforts, as well as many United Way volunteer opportunities and fundraising events.
United Way is a leading problem solver, innovator, and connector in the Mohawk Valley. Kristyn believes she fits into the connector role, as a large part of her job over the past 8 years has involved sharing information about United Way's work and the work of their funded partners. "I have had the pleasure of connecting with people, through presentations at workplaces, meetings, networking, events, and marketing and communication strategies. My most memorable times at United Way are when people tell me how they were helped by United Way. It's such a personal interaction when individuals share their stories about how United Way's funded programs or initiatives made a difference in their lives. Stories such as United Way's 211 service-connected them to help when they did not know where to start, or if there was even help available. Those are the moments that make me love my job the most. It truly shows how important these services are to our community."
When asked why she likes to work for United Way, Kristyn says "Like everyone who works for United Way, helping others is at the core of who I am. Knowing that I can be a part of a team of people with the same mindset, coupled with undeniable passion and willingness to do the hard work to make a difference in the lives of thousands of people - is what makes working at United Way so empowering. The team at United Way MV is small but mighty, and I find myself being in awe of and inspired by my co-workers daily."
Kristyn's favorite United Way event was Women United (formerly 100 Women Who Care.) She said this event mixed together all the things she loves most: healthy but tasty food, unique products, and services to shop from mostly women-owned businesses, cool DIY crafts, live music, a casual dress code, and a room full of women looking to make a difference.
Of all the amazing projects Kristyn pours her heart and soul into, her favorite project at United Way is putting together our annual workplace campaign video. She loves trying to figure out how to communicate the many aspects of United Way's impact in an under three-minute, informative, and compelling visual. "It is one of my most challenging projects each year, which is why it ends up being my favorite!"
Outside of United Way, Kristyn has been involved with non-profit work within the community since 2010. When she returned to the area after college, her first opportunity was with Stevens-Swan Humane Society. She started as a committee volunteer, helping to plan and promote fundraising events, and now sits on the Board of Directors and is the Governance Committee Chair. 
Some fun facts about Kristyn are:
Kristyn's favorite tomato pie is from Daniele's on Mohawk Street.
She loves to enjoy nature, and has hiked 8 out of 46 high peaks, completed the Fulton Chain Trifecta multiple times, is about halfway through the Fire Tower Challenge, and hopes to take on the Saranac 6ers with her co-worker and friend, Carli.
Kristyn's favorite place she has visited is Zion National Park on a honeymoon trip she took with her husband. She loved the otherworldliness of the contrasting red rock against the blue skies!
Kristyn planned to be a lawyer for most of her life leading up to college, but after seeing a young girl take the stand in a courtroom during a summer internship, she realized she wanted to help people in a different way.
She loves concerts and music festivals and has seen over 100 artists perform live.
Her favorite community event is Saranac Thursday's, and she is glad they are back!
Would She Rather?
We asked Kristyn some "Would you rather" questions, and here's how she answered:
She would rather live in a cabin in the woods than on the beach.  
She would rather find all of her missing socks than find five dollars on the ground.
She would rather time travel than freeze time.
She would rather get around on a flying carpet than a car that can drive underwater.
She would rather read the book than watch the movie.