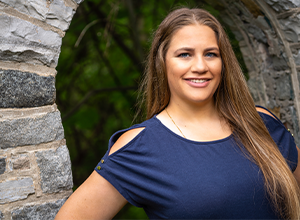 Director of Finance and Administration, CFO
315-733-4691 ext 227
Meet Jaime
A graduate of Florida State University with a B.S. in Accounting, Jaime Bonfardice began her career with United Way MV in August 2018. She's a very proud mom of 7 amazing kids, and she and her husband have been together for over 20 years. Jaime has been involved in nonprofit work for about a decade and loves working for United Way "because of the people we touch and help. It is really rewarding when you see the smile on someone's face." 
United Way is a leading problem solver, innovator, and connector in the Mohawk Valley. As a problem solver, Jaime has helped implement better and more efficient processes in the finance department to improve productivity. She also has her Notary Public certification!
Jaime's favorite United Way event was Women United (formerly 100 Women Who Care). This fundraiser focused on women's health and wellness and brought together local small businesses for a fun night out with inspiring women in our community.
Fun Facts About Jaime
Jaime's family recently added a furry family member, Zeus the golden doodle!
She loves to bake anything with chocolate.
Her favorite place to visit is Disney World. Who doesn't love Disney?!
The Maldives is on her bucket list to visit.
Her favorite tomato pie is from Roma's in Utica.
Her motto is "Don't stress over things you don't have control over!"
Would She Rather?
She would rather be able to fly for one day than be invisible.   
She would rather live on a beach than in a cabin in the woods. 
She would rather have an underwater car than a flying carpet.  
She'd rather watch the movie than read the book.
She would rather live under a sky with no clouds during the day than no stars at night.
She'd rather freeze time than time travel.