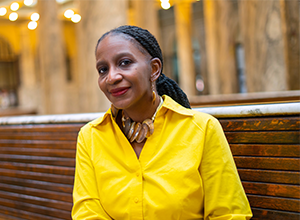 Utica ESPRI Administrator
315-733-4691 ext 243
Meet Dietra
Dietra began her career with United Way MV as the Utica ESPRI (Empire State Poverty Reduction Initiative) Administrator in 2017. Along with her Associate Degree from MVCC in Human Services and a Bachelor's degree in Business/Organizational Management from Keuka College, she brings her extensive experience in non-profit work and connections in the community with her to the team.
United Way is a leading problem solver, innovator, and connector in the Mohawk Valley. Dietra considers herself a "connector" and says, "My community relationships made me stand out as a potential candidate for this position. Just the ability to have the power of network and relationships has been a benefit to this ESPRI project."
When asked why she likes to work for United Way, Dietra says, "Initially, when I heard United Way, I would think of workplace campaign, but never really had the opportunity to get more depth. When I started working on the ESPRI project, I finally had the chance to learn who we are and what we do. I like to work for United Way because we are holistic in our approach to caring for humanity right here in our community. We are very responsive to the community's needs, and I love the creative way we approach problem-solving."
Her favorite project is the ESPRI/Academics First project because she has seen it through from just a concept to a tangible product. Academics First is now the region's only extended day child care center, right in the heart of Utica. When the project first came to fruition, it was unchartered territory. "It takes bravery, and we could have done it without good support from our board and leadership team. Sometimes we would panic and say, "How can we make this thing work?!" but then we step back and say, "Wait, we're really doing this thing! It's happening!" says Dietra.   
Dietra has had a lifelong experience in community/non-profit work. "As a child, I grew up in the projects and spent much time at our community center. In that center is where life happened. With the services they provided, children could do all the fun things. For me, what I got to do was hang around folks who became my mentors. While they were handling business, they allowed me to sit there and listen and take notes. I was entrenched in this nonprofit world from a very young age. It's fascinating to be on both ends of the spectrum as a child receiving the services and an adult responsible for ensuring those services happen."
Fun Facts About Dietra
Dietra's favorite United Way event is 100 Women Who Care because it addresses self-care and the importance of self-care.
Her favorite type of pizza is plain cheese (preferably from a pizza shop in Manhattan)
Dietra's favorite tomato pie is from Daniele's in Utica
Proctor Park is her favorite place to visit in the area. "It's where I go to exhale and try to get some exercise in, plus it brings me memories from my childhood."
Her motto from the past year has been, "We can adapt, and we can adapt QUICKLY." That is one of the most powerful things that has come out of 2020 for her.
Dietra grew up dancing, training in many styles from tap to modern to jazz and African dance. By age 15, she was teaching African dance at YWCA, and if there is music on, you will always find her on the dance floor!
Her favorite thing to cook is macaroni n' cheese.
Would She Rather?
She would rather be able to talk to animals than know the history of every object she touches.
She would rather every traffic light be green than never have to stand in a line again.
She would rather spend the rest of her life in an RV than on a sailboat.
She would rather her only mode of transportation is a donkey than a giraffe.
She would rather read the book than watch the movie.