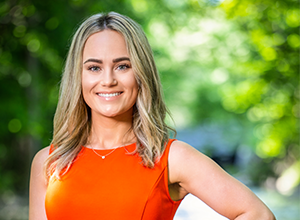 Director of Philanthropy
315-733-4691 ext 235
Meet Carli
A native of Utica, Carli began her career with United Way MV in 2016 as a Development Coordinator. She's been involved in nonprofit work for 11 years and now oversees United Way's fundraising efforts, including the organization's Legacy Society and Emerging Leader United Society (ELU) as the Director of Philanthropy.
United Way is a leading problem solver, innovator, and connector in the Mohawk Valley. Carli says, "I am a connector both by nature and in my role at United Way. Through Philanthropy, I connect donors and volunteers to United Way MV and causes they are passionate about, with each other, and opportunities to make a difference."  
Before Carli began working for United Way, she was introduced to the organization through a volunteer opportunity, United Way's Day of Action.
"In 2015, I was asked to volunteer for Day of Action, United Way's largest volunteer project each year. I painted over graffiti in a park in Utica. Following the project, I had the opportunity to chat with an employee of United Way about what they do. To be honest, I knew a little about United Way but did not have a full understanding of everything they did. After that conversation, I was SO impressed. I said to the employee, 'I want your job!' A year later, she let me know her position was opening at United Way and encouraged me to apply. Fast forward four years, and I still think I have the best job!" says Carli.  
When asked why she likes to work for United Way, Carli says, "I enjoy being part of real change in my community." Her favorite thing about her career is talking to people caring about the Mohawk Valley community and making it a better place daily. Her favorite project at United Way has been her role in expanding ELU. 
Fun Facts About Carli
Her favorite pizza toppings are mushrooms and peppers from O'Scugnizzo Pizzeria. 
The nature trails at SUNY POLY are her favorite place to go in the area. "They are short enough to do a quick walk after work and have a special place in my heart as I've been bringing my dog there weekly since I adopted him," says Carli.  
Carli's hobbies include being active and anything that makes you move. Her favorites are hiking, strength training, and exploring with her dog.  
She has two black cats named Jade and Luna, a rescued German shepherd/ lab named Rogue, and a golden retriever named Moose.
Carli has a diverse taste in music – she enjoys anything from the Beatles to Cardi B!
Would She Rather?  
She would rather have a golden voice than a silver tongue.  
She would rather watch the movie than read the book.  
She would rather time travel than freeze time. 
She would rather be able to fly for one day than be completely invisible. 
She would rather live on the beach than in a cabin in the woods.